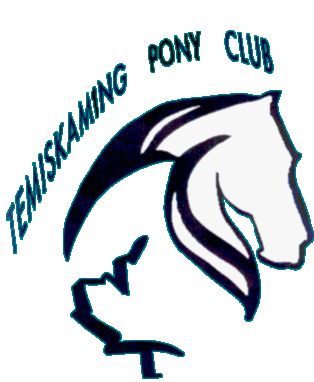 The Temiskaming Pony Club of the Central Ontario Region has been in operation since 1985. Our Branch colours are turquoise, black and white.

The Temiskaming Pony club consists of 14 members ranging in age from 8 to 21. Our members attend monthly education meetings held at various barns in the area as well as some at schools during the cold winter months. During the cold months we focus on learning new vocabulary and how to care for our horses by working on earning badges. In spring and summer we go out and practice what we've learned throughout the winter.

Our branch loves competing in Prince Philip Games. We have also attended Fun Rally the last few years and have done some Dressage and Show Jumping.

Our Pony Clubbers practice every week to prepare for the competitions. Practices are tons of fun, and even members who are not interested in pursuing the games competitively are welcome to join in.

Our members also have a great time at other events including Witch hunts, trail rides and other fun days.

This summer we will be hosting a dressage clinic with Edo Hoekstra and a saddle fitting clinic with Erica Allen.
Temiskaming Pony Club welcomes anyone interested in becoming a member! We are based in Temiskaming Shores and include members from the surrounding area. Our District Commissioner is Eliza Logan. For more information you can contact her at Temiskamingponyclub@gmail.com.

You can also look us up on Facebook as Temiskaming Pony Club!
---
Thanks for visiting the Temiskaming Pony Club