FIND A CLUB NEAR YOU
Check out our MAP
Upcoming Events
Jul. 26 - Jul. 30, 2018
Jul. 31 - Aug. 04, 2018
Aug. 13 - Aug. 17, 2018
Oct. 05 - Oct. 08, 2018
Donate to Pony Club?
Please e-mail our Treasurer for further information.
DID YOU KNOW?
When a new member joins Pony Club, they receive a CPC pin from the DC.
This pin should be worn to testing and for all other PC activities.
JESSICA PHOENIX - RISE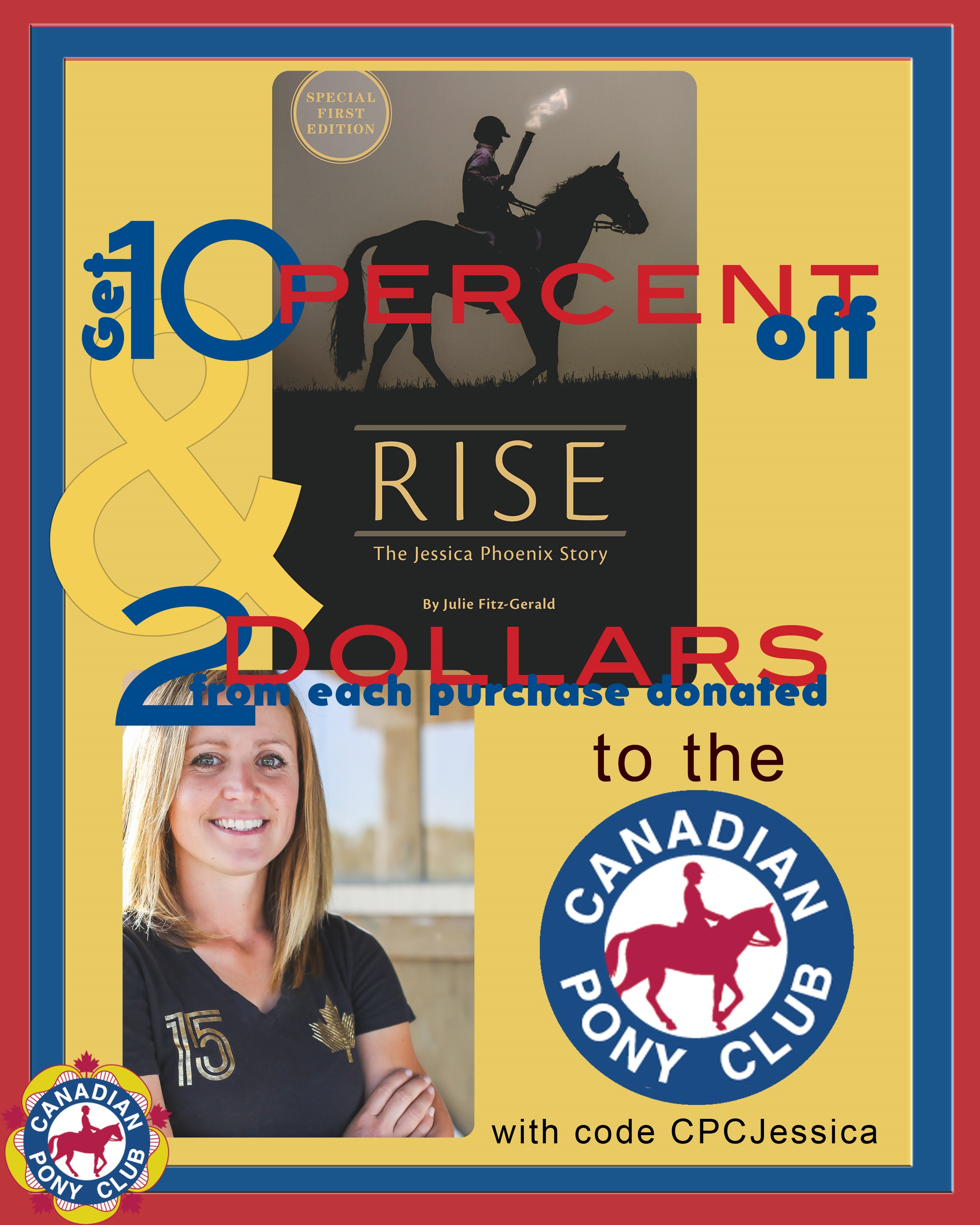 Read the remarkable story of Jessica Phoenix written by her equally remarkable sister, Julie Fitz-Gerald. It's a beautiful story that will have you laughing, crying, cheering ... and ready to take on the world! Limited first edition pre-orders will be signed by both Jessica & Julie.

Use code CPCJessica to get 10 percent off AND donate 2$ to Canadian Pony Club. Get it here.

Please share!
Youth Directors
The Active Member position is the voice of the youth at the National level. These members bring forward concerns and suggestions to the National Board directly from the other youth, so that they can be addressed.
Visit the Active member page to see news from our members
Welcome to Canadian Pony Club
Canadian Pony Club is a member-based association, managed by volunteers, mandated to serve the needs of Canadian youth, ages 6 to 25 years of age and adults (26 and up), who are interested in riding, learning about and/or caring for horses or ponies. Canadian Pony Club is incorporated as a national not-for-profit organization, and carries Canadian registered charity status.
Canadian Pony Club is committed to the vision:
To provide the opportunity for every child in Canada to have a positive experience with horses through providing opportunities:
For Education
To Learn responsibility, sportsmanship and good citizenship
For Enjoyment and/or competitive success with horses
Membership in Canadian Pony Club includes approximately 2,200 individual members, organized through 140 branch clubs and riding centres, from coast-to-coast in Canada.
Canadian Pony Club is affiliated with an international network of more than twenty national Pony Clubs in other countries. In total, the international Pony Club community includes more than 50,000 individual members, involved in providing a healthy, educational riding experience for youth, worldwide. Each national Pony Club organization, ensures that programs delivered within the country are in-line with international standards for education, testing, and competition.