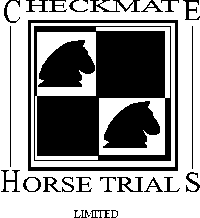 2003 Western Ontario Regional Rally
Checkmate Farm
Feversham, Ontario
August 1-3, 2003
Final Results
---
The 2003 WOR Regional Rally was held on Aug 1-3 at Checkmate with 15 riders and 16 grooms participating, all in the Pre-Training Division.
The Central Ontario Regional Rally and the Central Zone Rally were held at the same place and time so the presence of all the additional riders added greatly to the activity and provided a good chance to meet members from other areas.
Meghan Mackey on Maximus from the Glen Highlands branch was the top rider with only 38.35 penalty points. In second was Lindsay McCaslin on Wapiti's Legend from Caledon with 42.20 penalties and in third was Jessica Ralston and Irish Dancer of Mill Ridge with 51.60 penalties.
The top overall team was Mill Ridge/Guelph which was made up of Claire Prime, Jessica Ralston, and Samantha Guerin as riders with Carly Buck, Heather Chamberlain, and Danielle Watson as grooms. In second was the Guelph/London team with Nicole Cowper, Mackenna Roth, and Stephanie Caddey as riders helped by grooms Austin Roth, Jessica Smith, Katie Fleming, and Taylor Richardson. In third was the Caledon/Guelph team made up of riders Keri Rowe, Jessica Nelson, and Alex Stoianov with grooms Danielle Pearson, Becky Lindsey, and Courtney Squires.
In Stable Management, the top groom was Camille Black from Glen Highlands/High county followed closely by teammates Brittany Morris of Glen Highlands and Kaitlyn Greiling-Worton both of High County who were tied for second.
The top team in Stable Management, was the Guelph/London team with Glen Highlands/High County made up of riders Meghan Mackey, Jamie Hamilton, and Shannon Hanley plus grooms Camille Black, Brittany Morris, and Kaitlyn Greiling-Worton in second. Third went to the Caledon/Mount Nemo team with Lola Jean Gentles, Nora Strunk, and Lindsay McCaslin as riders with Kaitlin Dunn, Megan Mallais, and Jessica Hespeler as grooms.
---
All of the detailed results are available as PDF documents from the following links:
PreTraining Overall Individuals
Pretraining Teams
Grooms
PreTraining Dressage
Pretraining Cross Country
Pretraining Stadium Jumping
Stable Management Details