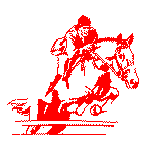 Show Jumping
---
Results of national competitions for the past several years are available through the "National Events" dropdown box in the top navigation bar. If the navigation bar is not visible, reload the CPC Home Page.
---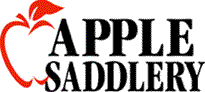 Special thanks to Apple Saddlery for supporting all of our Regional and National Championships
Show jumping tests a rider's ability to combine speed with accuracy over a stadium course comprised of knockdown jumps. It is an event that is popular among spectators everywhere. It provides a source of excitement for everyone, even those who may have never even seen a horse before!
The objective is for riders to complete the "obstacle" course with the least amount of penalties being accumulated and without having exceeded the time allowed. Penalties are assessed for knockdowns and refusals. In the event of a tie, or with more than one rider having gone clear, then a timed jump-off is held with the rider having gone the fastest with the least penalties being the winner.
Canadian Pony Club Show Jumping competitions are governed by current C.E.F. rules - Table A, Table C, or Power and Speed. Depending on the type of class being run, those riders who go clear and within the time allowed may qualify for a jump-off. In the jump-off, clean rounds count ahead of those with knock-downs, and the fastest clean round wins.
The Canadian Pony Club National Show Jumping Rules allow for seven divisions of competition:
| Class Name | Maximum Height |
| --- | --- |
| Entry | 2'3" (2'6" jumpoff) |
| Starter | 2'6" (2'9" jumpoff) |
| Beginner | 2'9" (3'0" jumpoff) |
| Novice | 3'0" (3'3" jumpoff) |
| Intermediate | 3'3" (3'6" jumpoff) |
| Advanced | 3'6" (3'9" jumpoff) |
| Open | 3'9" (4'0" jumpoff) |
The rules permit the show organizers to omit some of the classes.
Both team and individual competitions may be included in each division at the discretion of the organizers. Teams are made up of 3 or 4 riders with the poorest score in each round being ignored.
Both Eastern Canadian and Western Canadian Championship competitions are held. For this purpose, the East/West dividing line is the Ontario/Manitoba border. There are currently no plans for an overall National Championship.
Riders are selected to attend the Eastern or Western Canadian Championships by somewhat different methods in each Region so please check your own Region's page for specifics in your area.
The National Showjumping Rules allow a lot of flexibility in exactly how each Region handles show jumping. In most cases, Regions provide several additional classes for less accomplished show jumpers and a selection of 6 or more divisions covering jump heights from about 2'0" to 4'0" is often available at Regional competitions.
The official Canadian Pony Club Show Jumping Rules are available for free downloading. Most people with a laser or inkjet printer should be able to print them out so make sure you or your branch have the most up to date information.