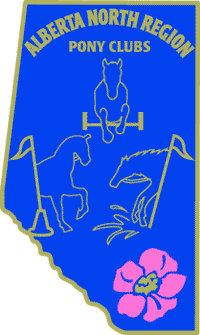 Prince Philip Games
National A Division
Championships 2007
---
This year's National A Prince Philip Games Championships was hosted by the Alberta North Region Pony Clubs at Whitemud Equine Centre over the Labour Day weekend. On Friday, August 31st, visiting teams from across the country checked in at the Sandman Hotel in preparation for the activities. On the Saturday, the teams, chaperones and coaches met at the West Edmonton Mall for a fun filled day. Some went to check out the thrills of the amusement park and some opted for a lazy day at the beach at the indoor wave-pool complex. At six o'clock we all met up again for a pizza party at the Whitemud Park that is just adjacent to the competition grounds. After devouring lots of pizza and getting to know each other around the campfire, visiting teams headed over to the games trailer to check out the ANR PPG equipment before heading back to their hotel for a good night's sleep before the competition. At nine a.m. the next morning the competition got underway with pony tryouts and then the games began. We had four teams competing this year, The COR Uxbridge-Scugog 'Eh Team',
The BCLM Vancouver Pony Club,
The ANR Hakuna Matata Team and
The ANR Muggles Team. We played sets one and two and then took a lunch break. Our ANR volunteers provided a magnificent lunch for everyone [even a few passers by!] and then it was back to work for the final two sets. All the races were very exciting to watch with countless photo finishes to keep the judges very alert! The ponies all looked as if they were enjoying themselves too. 'Joey' won the Best Pony Award and went home with a smart new saddle pad. The visiting teams also showed their appreciation for the pooled ponies by awarding their own little prizes to pony lenders. At the end of the day the standings were as follows: 1st place COR 'Eh' Team
2nd place ANR Muggles Team
3rd place BCLM Vancouver Pony Club Team
4th place ANR Hakuna Matata Team.
The Sportsmanship Trophy was awarded to the Hakuna Matata Team. After packing up equipment and helping un-tack ponies, teams made one last foray to the kitchen for last minute snacks and then left for the airport to return to their respective regions. It was an honour to host this event, and a pleasure to meet the visiting teams. ANR hopes that everyone took home happy memories and enjoyed the hospitality extended to them by our pony club members here in Northern Alberta. Jane Goodliffe, ANR PPG Chair.