Canadian Pony Club Membership Requirements and Costs
There are several types of members in the Canadian Pony Club, however the most important members by far are the "Active Members", those members between 6 and 21 years of age, who are the reason for the whole organization to exist.
We also have Affiliate Members who are between 21 and 25 years of age. There are some special qualifications to join as an Affiliate Member. Details are available here.
Although all members are registered with the Canadian Pony Club at the national level, the method for joining is to apply for membership in one of our local branches. You can find the location of existing branches by browsing the "Regions and Branches" part of the menu at the top of the screen. Inquiries about forming branches where none are currently located are welcome at info@canadianponyclub.org.
It is mandatory that all members of the Canadian Pony Club also be members of the Provincial Equine Sports Organization in the province where they live. For example, the Ontario Equestrian Federation, the British Columbia Horse Council, etc.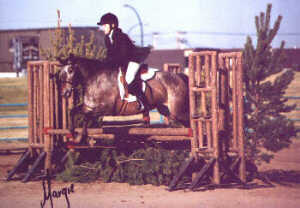 Pony Club members are often involved in other equestrian groups and competitions outside Pony Club. In this photo, we see Pony Clubber Caroline Turner on her pony "Cassiopiea" at the Summer fair in Brandon, Manitoba.
The minimum age limit for membership in the Canadian Pony Club is 6 as of the date of joining.
The last year in which anyone is eligible for Active membership is they year in which they have their 21st birthday. For example, if your birthday is on Jan 1, you can be a member for the entire year even though you are 21 years old. If your birthday is Dec 31, you may not rejoin as an Active Member for the following year after you turn 21.
If you are lucky enough to live in an area where several Branches are handy to you, there is usually no restriction on which of them you may join, however it is best to check with the Region or Branches involved to be sure.
There is no general requirement that a child must own a horse/pony in order to join Canadian Pony Club and a large percentage of our members do not. However members should be aware that they will be restricted in the number of Pony Club activities in which they may take part if they don't have the exclusive use of a horse or pony by owning or leasing one along with its tack (saddle, bridle...) and the means to transport it.
Some Branches are stable-based and can provide school horses and ponies for Pony Club activities on a lease or rental basis. Most Branches, however, are not stable based and may not be able to make arrangements for members who don't own or lease their own mount.
Some branches do require that members either own or have the use of a horse and transportation for it. You will need to check this with the individual branch you may be considering joining.
There is an annual fee which is currently (for 2011) $70 per member which is payable by all members to the National office to cover the costs of operations of the Canadian Pony Club.
Members pay all fees in one amount to the Branch which they join. The total fees they will pay include any Regional and Branch fees which are added to the National fee. Both Regional and Branch fees vary depending on the services provided. Regional fees are generally quite small (in the range of $10 to $50) and Branch fees have a very wide range. Some Branches include the costs of lectures, clinics, and even some riding lessons in the annual fees while others choose to charge separately for such things rather than include them in the annual fees. As a result, Branch fees can range from as low as $5 per member to well over $100 per member.
As is the case for many other youth activities (like Hockey), the cost of joining Pony Club is not limited to the annual fees. Although we do not wish to discourage membership, we also do not wish to mislead potential members into believing that the costs involved will be unrealistically low.
Whether or not they are included in the annual fees, each member will probably have to pay for some lessons and clinics, will need to get the use of some items such as a proper hard hat, riding boots, and may need to purchase things like a membership pin and books on the required or recommended reading lists. As they progress, formal hunt attire to use in shows and competitions will be needed by most members. Some Branches and Regions have periodic or continuous sales of good used equipment. For those who do not already have their own mount, the cost of obtaining and keeping one should also be considered.
Although the total of these costs can be significant, it is not out of line with the total cost of other youth activities and the rewards in terms of satisfaction for the members can easily make the cost a bargain.