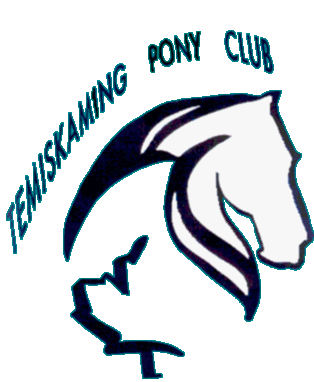 The Temiskaming Pony Club of the Central Ontario Region has been in operation since 1985. Our Branch colours are turquoise, black and white.

The Temiskaming Pony club consists of 14 members ranging in age from 6 to 16. Our members attend monthly education meetings held at Dreamcatcher Equestrian Centre in New Liskeard.

Our branch is extremely interested in Prince Philip Games. In the 2009 season, our club sent 6 'C' level riders and 4 'B' level riders to the PPG meets. Our C team placed first overall, while our B team finished 2nd in each competition to end the year with a 3rd place overall.

This year our pony clubbers practice every week to prepare for the competitions. Practices are tons of fun, and even members who are not interested in pursuing the games competitively are welcome to join in.

Our members also have a great time at other events including a Christmas party, a sleigh ride and fundraisers such as a bake sale held at a local equine trade show.
Temiskaming Pony Club welcomes anyone interested in becoming a member! We are based in Temiskaming Shores and include members from the surrounding area. Our D.C. is , CLAUDETTE DUFRESNE, for more information you can contact her at cddufresne@ntl.sympatico.ca
---
Thanks for visiting the Temiskaming Pony Club