Taylor Ryan Wins Ontario Equestrian Federation Bursary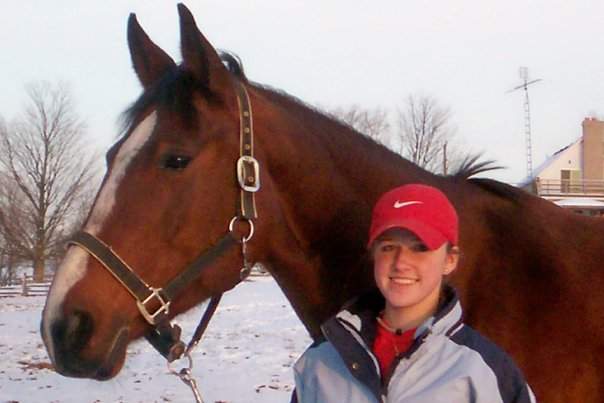 Newmarket resident Taylor Ryan, a member of the Whitchurch Pony Club, has been awarded a $1,000 Ontario Equestrian Federation bursary to pursue further equine training and/or education. Ms Ryan, 16, is a grade 11 student at Sir William Mulock Secondary School in Newmarket
Ms Ryan has been riding since the age of seven at the Whitchurch Riding Academy in Mount Albert. She is an active member of the Whitchurch Pony Club and has competed at various shows including Pony Club dressage, show jumping and rallies, as well as eventing, combined and short courses. She also assists younger members in the club with their learning. She is Whitchurch Pony Club's Youth Representative on the Branch Executive. For the past two years Ms Ryan has worked with her coach to train a green horse (Sammy) that had not been ridden for several years. Last year Ms Ryan showed Sammy and successfully took her to the Central Ontario Regional Pony Club show jumping finals, placing sixth overall in the year-end standings for the Entry Division. Ms Ryan works at Whitchurch Riding Academy as a barn hand as well as a councillor in the summer. This year she plans to compete in the Central Ontario Regional quiz, in show jumping (in a higher Division than Entry), and possibly as Whitchurch's Captain at D-Rally. In the future Ms Ryan hopes to pursue a career working with animals.
Every year the Ontario Equestrian Federation awards bursaries to deserving young riders. For 2009, four of the 11 awards went to current members of Pony Club branches in the Central Ontario and St. Lawrence-Ottawa Valley Regions, with another two going to Pony Club alumnae from the same Regions.
The Ontario Equestrian Federation is a not-for-profit sport governing office that provides education, leadership and support to individuals, associations and companies in Ontario's horse community. It provides its members with a variety of services, programs, and benefits, and represents their interests to the general public, affiliated organizations and to varying levels of government.
Committed to youth, the OEF offers bursaries annually to Junior OEF members wishing to pursue an equine career and/or further their competitive goals. Applications for 2010 OEF Youth Bursaries will be available beginning July 1, 2009. If you will be between 14 and 17 years old (as of January 1st, 2010) and attending a high school in Ontario in 2010, DO NOT MISS OUT ON THIS OPPORTUNITY!! For more information please visit the OEF website www.horse.on.ca.
For more details e-mail Bob Inglis, Central Ontario Regional Communications Chair, or call him at 416-493-1223 (office) or 416-491-4230 (home).