Stacy Bootsma Wins Ontario Equestrian Federation Bursary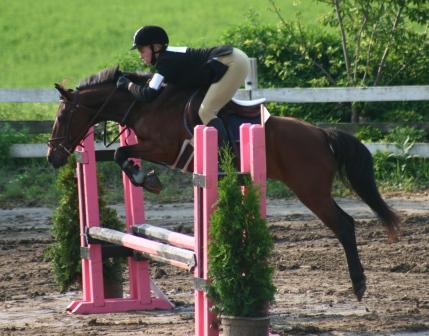 Bradford resident Stacy Bootsma, a member of the Rising Star Pony Club, has been awarded a $1,000 Ontario Equestrian Federation bursary to pursue further equine training and/or education. Ms Bootsma, 16, is a grade 10 student at Bradford District High School. She was also a recipient of the OEF's "Send a Kid to Conference" program. This enabled her to take the two day National Coaching Certification Program course. She plans to finish her mentoring with her coach Marsha Bloom and obtain her instructors certificate.
Ms Bootsma has been a Pony Club member since the age of eight and has participated in all Pony Club disciplines with her Pony Reese, her favourites being Prince Philip Games ("PPG") and Show Jumping. She was a member of the 2007 National Pre-Training Drill Team Champions and competed in PPG A Zones and Nationals. She was also the 2008 Reserve Regional Champion in the Entry Division Show Jumping. She currently works for her Coach as a stable hand and instructor. She has also worked for South Algonquin Summer Camp as a stable management coach.
Ms Bootsma plans to study Marine biology when she completes high school. She is extremely grateful to the OEF for the opportunities they have given her.
Every year the Ontario Equestrian Federation awards bursaries to deserving young riders. For 2009, four of the 11 awards went to current members of Pony Club branches in the Central Ontario and St. Lawrence-Ottawa Valley Regions, with another two going to Pony Club alumnae from the same Regions.
The Ontario Equestrian Federation is a not-for-profit sport governing office that provides education, leadership and support to individuals, associations and companies in Ontario's horse community. It provides its members with a variety of services, programs, and benefits, and represents their interests to the general public, affiliated organizations and to varying levels of government.
Committed to youth, the OEF offers bursaries annually to Junior OEF members wishing to pursue an equine career and/or further their competitive goals. Applications for 2010 OEF Youth Bursaries will be available beginning July 1, 2009. If you will be between 14 and 17 years old (as of January 1st, 2010) and attending a high school in Ontario in 2010, DO NOT MISS OUT ON THIS OPPORTUNITY!! For more information please visit the OEF website www.horse.on.ca.
For more details e-mail Bob Inglis, Central Ontario Regional Communications Chair, or call him at 416-493-1223 (office) or 416-491-4230 (home).