Arête de Chêne Pony Club Stages Open House
The Arête de Chêne Pony Club will hold an open house on this coming Sunday, October 29, at the High Pointe Inn & Equestrian Centre near Baltimore, ON, running from 1:00 to 3:00 pm.
Arête de Chêne is a Branch of the Canadian Pony Club in the Central Ontario Region.
Pony Club is an international organization to promote riding and horsemanship skills among young people up to 21 years old. It has been active in Canada since 1934, and has contributed many members to Canada's Olympic and World Championship equestrian teams over the years. The Central Ontario Region comprises approximately 30 Branches with a total membership of about 500. Worldwide, membership in Pony Club exceeds 120,000, making it the largest equestrian organization in the world.
Show jumping is the most familiar Pony Club activity since it attracts television coverage at its higher levels. Pony Club also offers competition in dressage, mounted games, rallies as described above, tetrathlon (including swimming, shooting, cross-country and stadium jumping, and cross-country running by the riders) as well as "academic" competition in quiz format. Above all, the objective of all Pony Club competition is for kids to have safe fun in horse-related activities.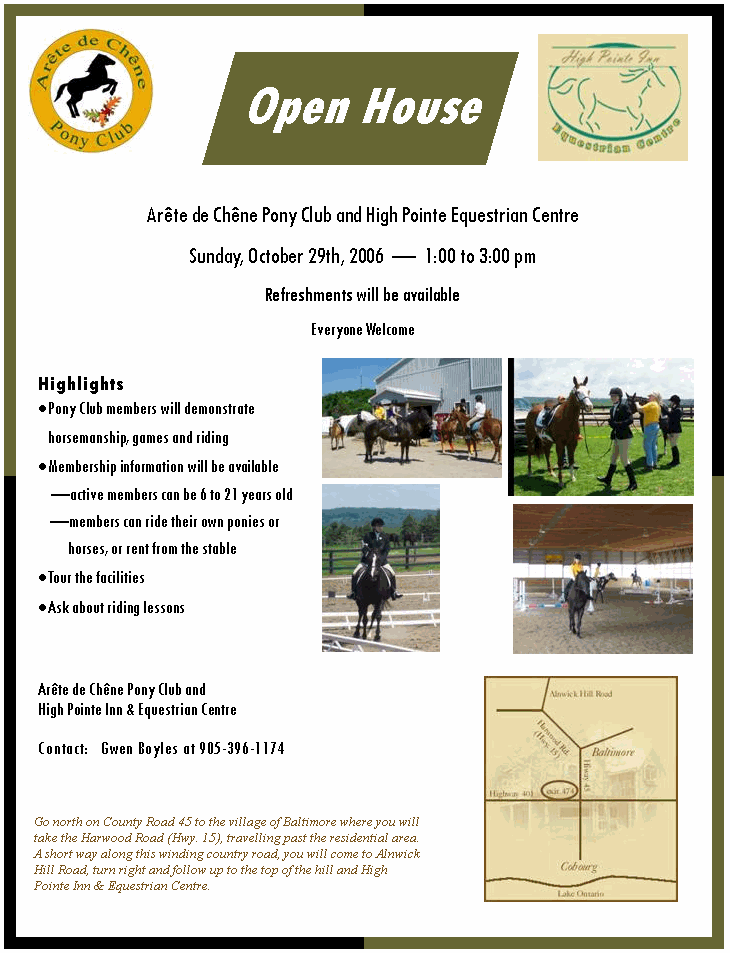 For more details e-mail Bob Inglis, Central Ontario Regional Communications Chair, or call him at 416-493-1223 (office) or 416-491-4230 (home).