Welcome to the Web page of the

Alberta Central Region
---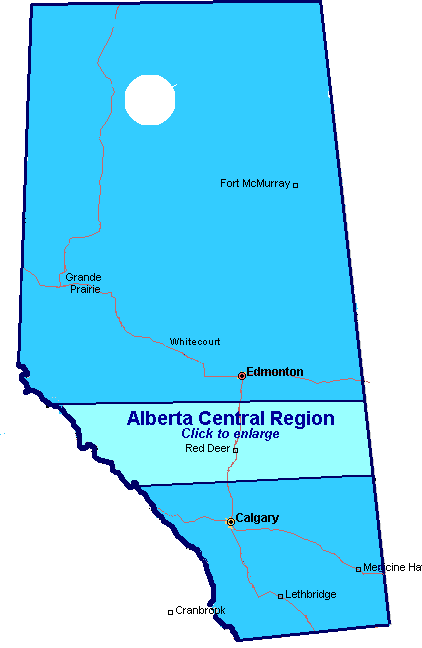 The Alberta Central Region was created on April 1, 2000 as one of 3 new regions born when the former very large Alberta Region was divided in order to be able to address members' needs better.
As shown approximately in the map at the right, our region includes the portion of Alberta lying north of a line roughly half way between Red Deer and Calgary and south of a line about half way between Red Deer and Edmonton.
Our branch locations are shown on a map which covers most of our region. The map is as small as we can make it to include all the branch locations and therefore does not cover the entire regional area. The map will be enlarged if new branches are created outside its limits.
We will be posting more information about our brand new region in the very near future so stay tuned.
In the meantime, if you want to find our more about us, please contact our Regional Chair, by email at .
Existing branches welcome new members at any time of the year. New branches are started where there is an interest.
Some additional information about scheduled activities in the Alberta Central Region is available at Alberta Equine On-Line
All of our members are also members of the Alberta Equestrian Federation which we strongly support.